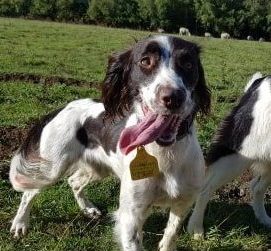 Episode 4: When patience pays off.
23rd July 2019
Welcome to episode 4…last week we saw Sheila and Frodo bonding over effective training, after a rather strained start. Patience and little and often is the way!
Nine months after first getting Frodo, Shelia was finally able to brush his teeth daily without the primula tube being nearby. This had been built on gradually, as Frodo was having none of it at the start. Sheila was reminded that it was just as important to brush Frodo's teeth as it was her own, in order to avoid a hefty veterinary bill for dental treatment in the future. Progression not perfection was always in Shelia's mind when it came to Frodo. She patiently and slowly eased Frodo into becoming familiar with the doggy toothbrush and toothpaste. It took a lot of work and felt like quite the achievement when Frodo was finally comfortable with Sheila poking around his mouth. Her neighbour saw her latest Instagram post about this milestone and asked "why don't you just give dental treats?" Her response reminded her of a conversation she had with Dr Foo, "if it was that easy, our dentists would tell us to do the same, and have dental treats ourselves!"
Top tip from the story…look after your dog's teeth like you would your own. Dental sticks may not be enough!
Back to Blog