At Amity Veterinary Care, we believe that the team is our greatest asset.
Every personnel here has been carefully selected from a rigorous interview process placing attitude and mind-set as the most important criteria above paper qualifications. Following hire, they are then trained in various aspects that are required to become part of the team.
Working at Amity will not just a job, it will become a lifestyle. It is a continually learning process about the profession and life.
Time, effort and money will be invested in personnel development. The team will be recognised as making a difference to the practice and to other people's lives, not just a number or a cog in the machine.
They will learn about the profession as a whole. They will learn about the workings of the practice, not just their job, being able to appreciate the whole of the practice.
Knowledge will be shared among vets such that it is a continual learning process.
Roles can be replaced but every person is individual and irreplaceable.
---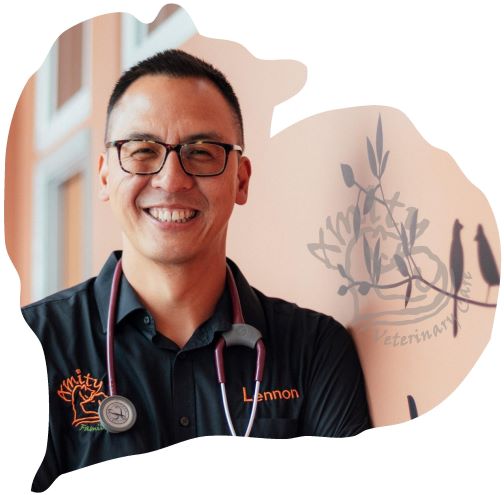 Dr Lennon Foo GPCERT (SAM) BVETMED MRCVS
Founder and Director
I was born in Singapore. I studied my 'O' and 'A' levels there before entering the Singapore Armed Forces to perform my national service. I was honourably discharged from the army as a Combat Infantry Officer to pursue my dream of becoming a vet in the UK.
It was tough studying in a foreign country so far away from home. I became independent very quickly and worked hard to complete my studies. I graduated as a vet from the Royal Veterinary College of London. My initial interest was zoo animals. I always felt being a zoo vet was pretty cool! Although I have chosen a different path since, my love for the exotic species still remains.
My first job brought me to Devon, a place which I fell in love with and knew that this was where I wanted to be in the UK, after all many of the British come here for holidays! After a short stint working with both farm animals and companion animals, I developed my skills in the companion animal sector and treated pets solely. Soon after, I achieved my certificate in veterinary acupuncture. This was something I always knew I would do. In my final year in college, I presented a paper detailing how acupuncture is used in general anaesthesia. I love that I am able to use this skill to help animals without using drugs.
After being qualified as a vet, I became very confident as a surgeon due to my natural interest. This led me to complete a medicine certificate as I felt I needed to 'balance' my surgical and medical skills. Hence, I like to think that I am able to offer a more rounded treatment option.
It was not long before I acquired the skill of minimally invasive surgery, also known as 'keyhole' surgery. Like many vets, I never realised the usefulness of this technique and how it can improve my patients' lives until I started using it. I have never looked back since.
I relish using my veterinary expertise abroad as I have worked with various charities from being a one man band on a cat neutering mission in 3 Greek locations to a neuter clinic on a isolated island in Thailand and training vets in Cairo to writing policies in their local charity after the revolution.
Above all interests, I knew that I always wanted to run a practice, doing things my way as I felt there was plenty of room for improvement to how the veterinary service could be delivered to customers. It is with this dream and aspiration that Amity was created.
I look forward to providing you with the unique Amity Experience.
---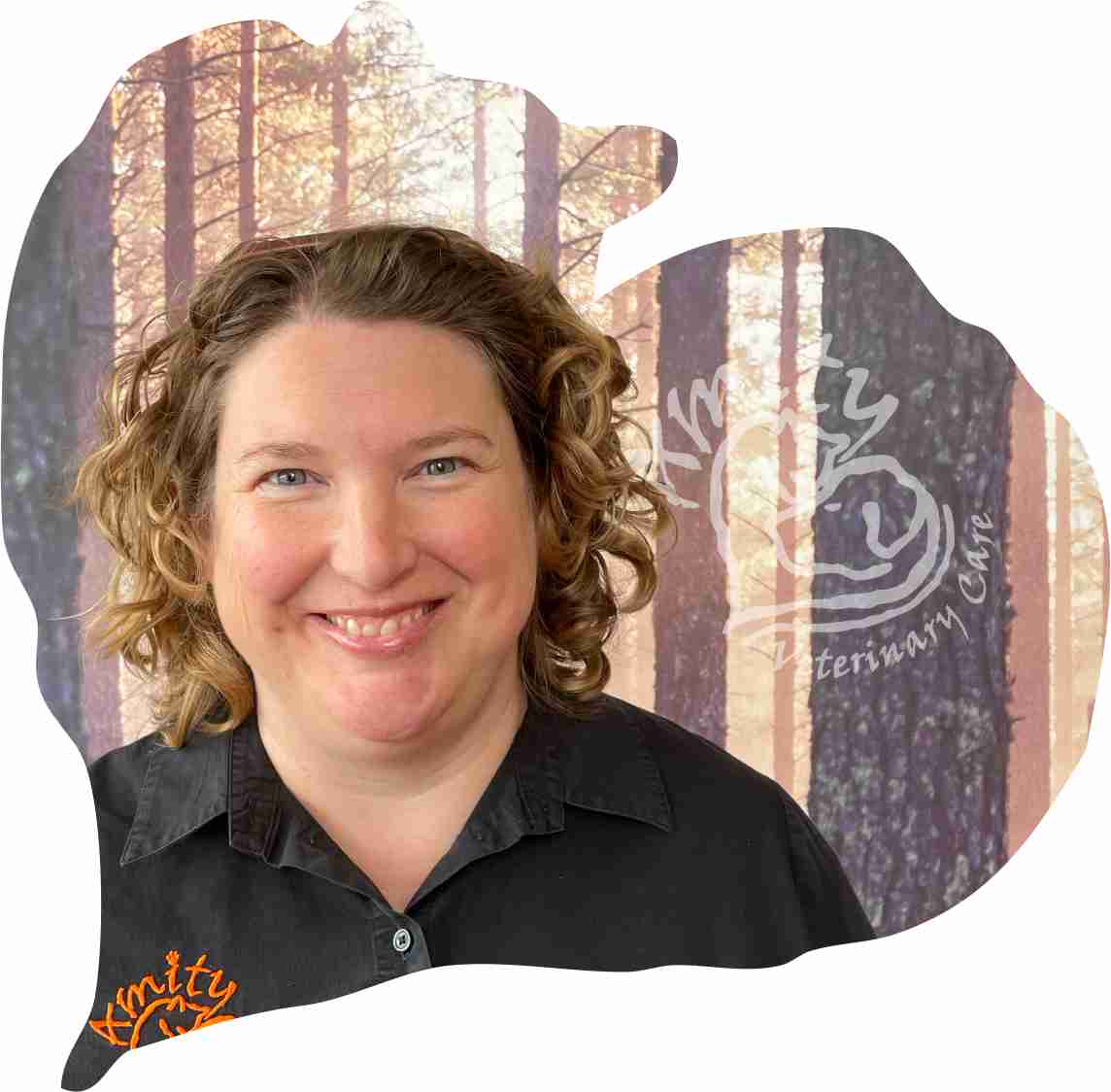 Dr Laura Neerings BVMS MRCVS
Veterinary Surgeon
I was born in Paisley and grew up on the southside of Glasgow. I have always loved animals; my obsession with dogs led to my parents getting a Labrador puppy when I was 2 years old. It was always my dream to become a veterinary surgeon, and I studied at Glasgow University Veterinary School and qualified in 1998.
I thoroughly enjoy all aspects of life as a general practice small animal veterinary surgeon. I love to meet new patients and get to know their guardians. I have further qualifications in Western Veterinary Acupuncture. I have also acquired the skill of minimally invasive surgery (keyhole) which allows me to perform some surgeries with much less stress to the animals.
I met my husband while I was in my first job in the Midlands. Together we made the choice to move to the southwest of England. We have two amazing daughters and a crazy Lurcher type dog. We love to go walking together and regularly camp in our pop-up tent – luckily, we never have to drive far as there are so many beautiful camping spots down here! I also love music and can play the piano, flute, and a little acoustic guitar. To unwind in the evening, I love to crochet and have a house full of blankets (which are also great for sitting round the campfire at night). I also love cooking for people and entertaining in my house.
I love being part of the Amity family and look forward to meeting you and your pets.
---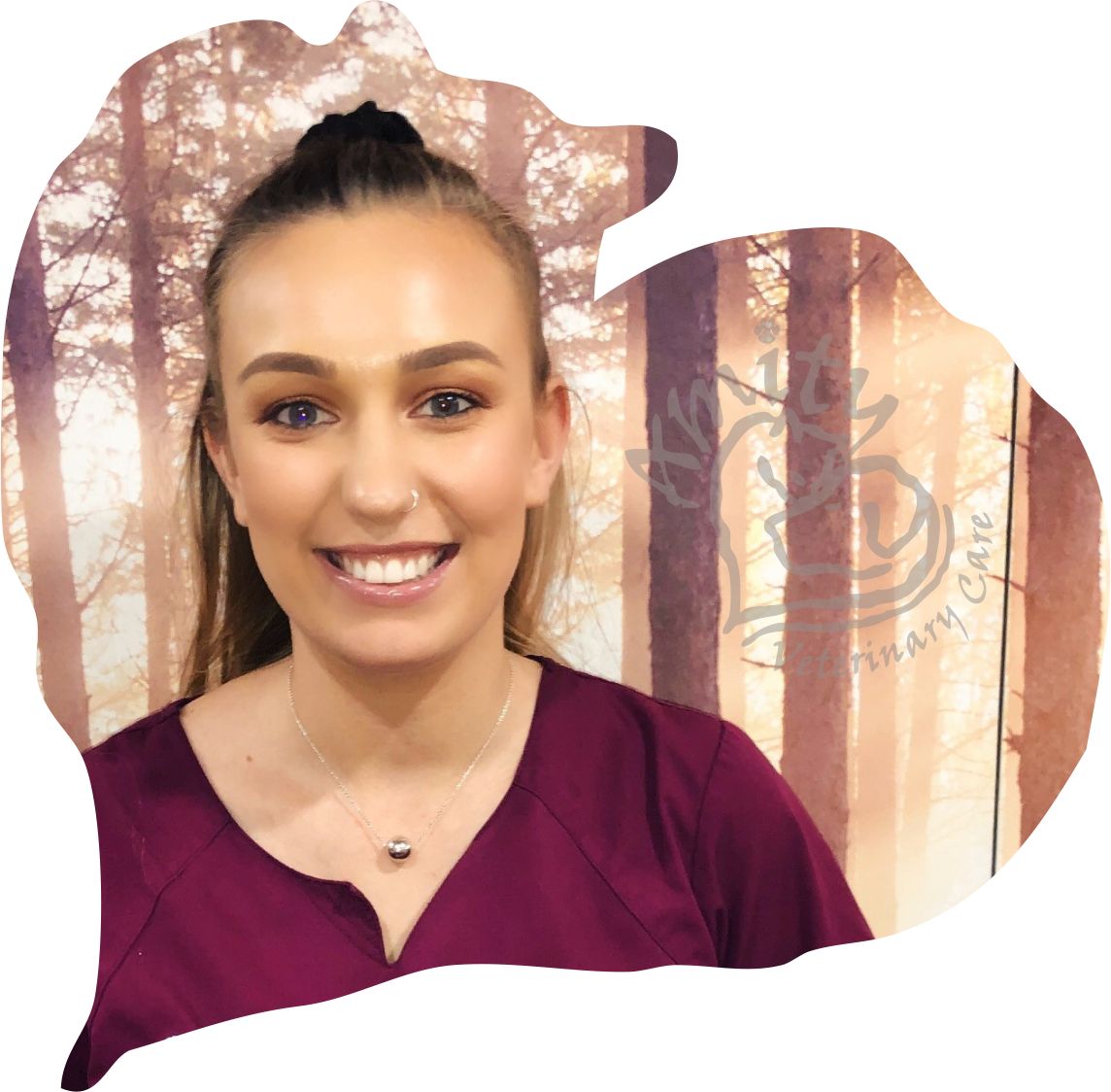 Ella Woodfield
Amity Assistant
I was born in Devon and have lived here my whole life.
I absolutely love the countryside and couldn't imagine a better place for me to live.
After leaving school I completed an apprenticeship in horse care at a stable yard that provides equine-based educational and therapeutic activities to disadvantaged young people and adults. After completing my apprenticeship I worked in local pubs before becoming a care assistant. I then returned to working with horses and disadvantaged young people and adults before finding my true calling here at Amity Vets.
For as long as I can remember, I have adored all animals, growing up I was fortunate enough to experience caring for a variety of pets, from a lizard to a pony with many in between! As a child family members gave me the nickname of Dr Dolittle as I would befriend almost any animal I met – pet or wild!
I am currently the lucky (or mad!) guardian of two horses, a Cocker Spaniel and Smokey the rat. I can't imagine a life without pets. In that rare thing that people call 'Free Time' I enjoy spending as much time as possible with my family and friends, going for walks on the Moors and going on holiday, I love visiting other countries.
I always knew that I wanted to work in the veterinary industry and I am glad that I took my time to get here and proud that I am where I have always wanted to be.
I can't wait to meet you and your pet/s!
---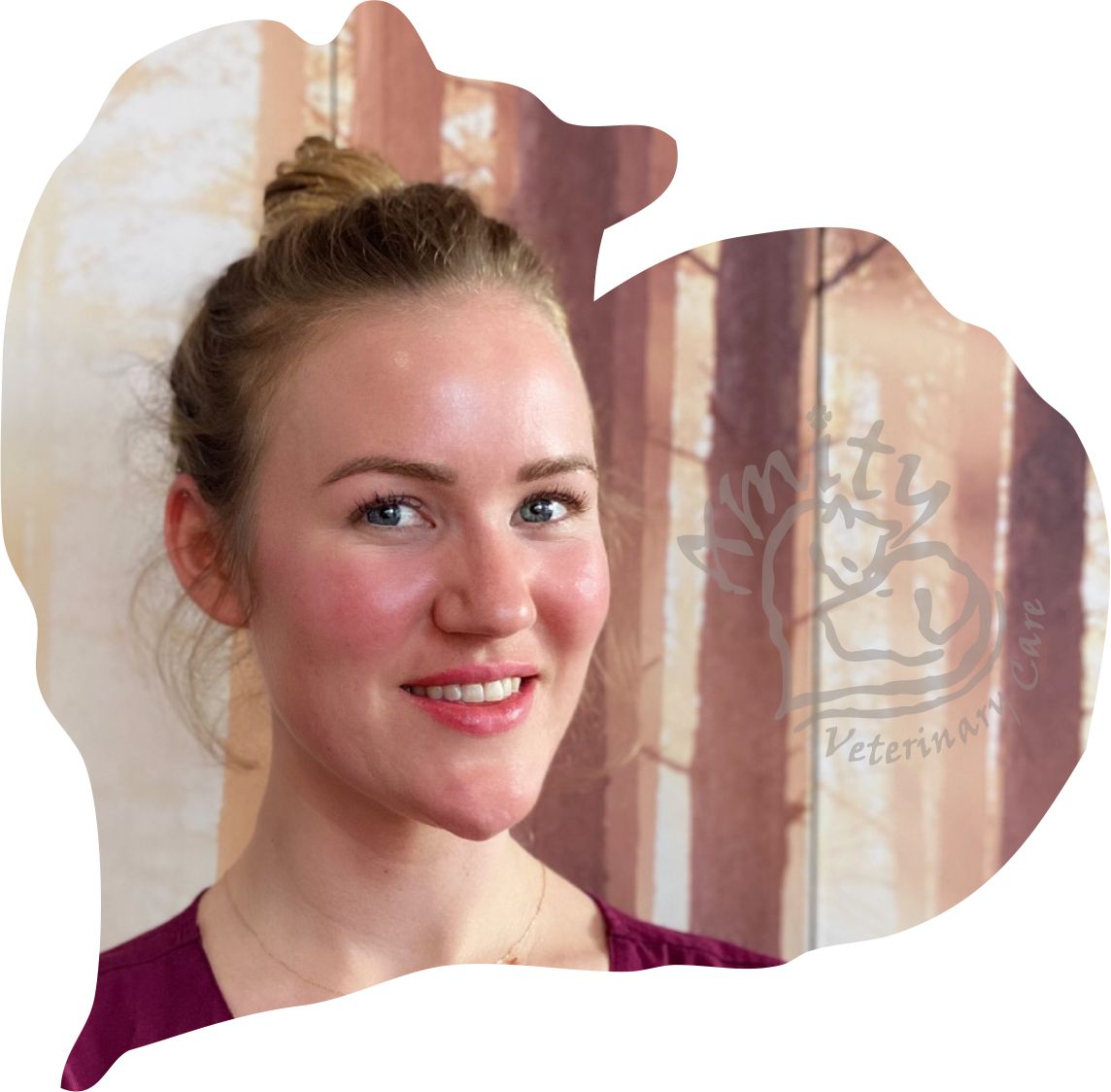 Madeleine Florence
Amity Assistant
Hola, I'm Maddy!
I grew up on an old farm in the middle of the countryside in the Cotswolds. Sometimes it did feel very busy though as we had 12 outdoor cats that had their own little cat shed, 5 dogs, 2 horses, 7 chickens, 5 ducks and some sheep that came and went. Also my grandad had a farm in Somerset, understandably, I would consider myself an all-round country girl.
When I was 15, I moved to a little village in the South East of Spain. I truly found my passion for helping animals then when I started volunteering for a start-up animal rescue association. As I became more experienced with rescued animals, I started to foster them to try and prevent taking them straight to the shelter to become de-socialised; I loved fostering and being able to give love and care to the animals that needed it the most. Over a few years we managed to build a new shelter/space after fundraising and getting donations.
I flew with Emirates to travel the world for a while. I enjoy rugby and sea paddleboarding. In 2020, it was decided that the "big city" life wasn't meant for me and that prompted me to move back to the UK, in Devon; to settle down, become a true environmentalist and also continue focussing on my passion for helping animals. That's when I found Amity.
I feel so lucky to have found the Amity family, I couldn't be more grateful. I consider this to be exactly where I'm meant to be.
---
Ali Savage
Amity Assistant
I was born in Devon and have lived here my whole life. I come from a family of six, and I am the youngest of four siblings, with two older sisters, and one brother. We had the best childhood growing up, thanks to my amazing parents, and extended family, with summers in Bristol, South Wales, and Somerset. I will always cherish these fond memories.
I still live within 20 minutes of my siblings, and parents, which is a big comfort knowing I have my family around. My fiancé and I, are lucky enough to be home owners, and our lives are enriched with his loving, spirited seven-year-old daughter. Our lives are also blessed by our dog Hamm, who is our loyal, comical Old English bulldog.
I enjoy travelling, Australia being my favourite destination, which one day I hope to re-visit.
I have always loved animals from a young age, and when I was younger, I wanted to be a Whale trainer at SeaWorld. However, after learning about how they live there, I have since changed my mind. My parents allowed my siblings and I have a range of pets when we were younger ranging from guinea pigs, gerbils, birds, fish, dogs, rabbits, and a tortoise.
Due to life circumstances at the time, I could not pursue my ambition to work with animals. I worked at McDonald's, and got promoted from a crew member to Assistant Manager.
Although I enjoyed my time at McDonald's, and met some friends for life whilst working there, I knew that I still wanted to go into an animal focused career.  I then found Amity. I feel grateful to not only be a part of the Amity family, but accepted by the entire team. I am super excited to continue my growth with my team at Amity, doing something I have loved forever.
It is my absolute pleasure to invite you all to be a part of the Amity family, and to introduce us to your beloved companions.
---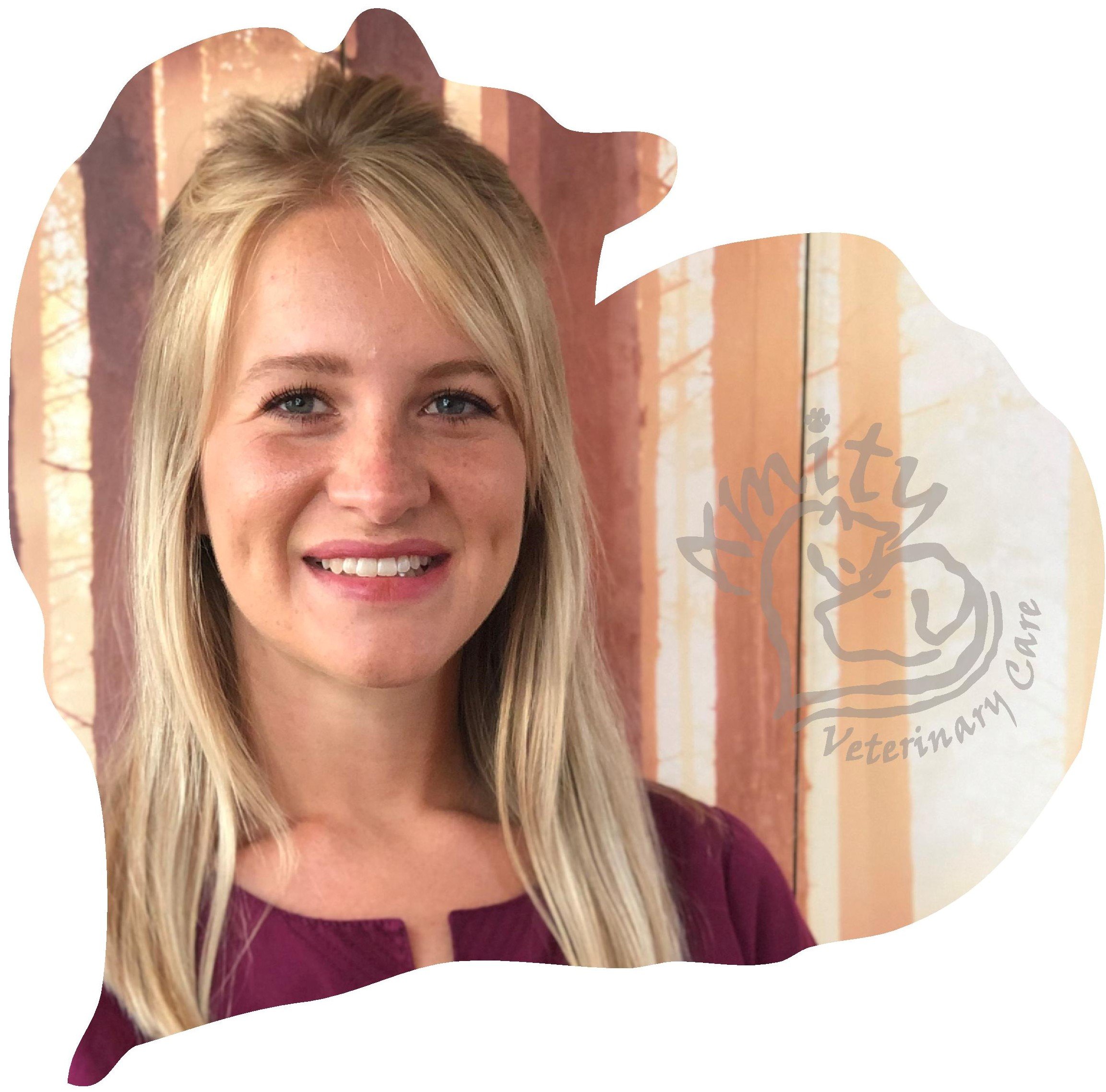 Sarah Grose
Amity Assistant
My name is Sarah and I have lived in Devon my whole life. I adore living in the countryside and feel so lucky that we have so many beautiful beaches and Dartmoor so close by.
In my professional life, I have a mainly retail back ground, I love to help people and enjoy assisting people the right product, gift or service to suit their needs. I have also spent some time working as a swimming teacher, and while this could be challenging at times, it was very rewarding to teach children how to swim, a lifelong skill.
I have always admired the veterinary profession and had a love for animals, and once we welcomed a gorgeous cockapoo, called Henry, into our family, I have had a new found admiration for the veterinary profession, and have realised how important it is to find a vet practice you can trust and respect. After all you are entrusting them with a member of your family!
When I am not working, I love to spend time with my family, and I have a son who keeps me active and busy! We love to take long walks with our cockapoo, Henry, socialise with our friends and family and exploring new areas, both here in the UK and abroad.
I look forward to welcoming you to the practice and getting to know both you and your pets throughout your time at Amity.